Thinking of visiting Stratford Upon Avon in the United Kingdom and wondering what to see in Stratford? It's a popular destination with both British and international tourists and is especially popular with families. There are so many family-friendly things to do In Stratford Upon Avon, especially if your children are interested in history. In this post, we are going to cover the best things to do in Stratford upon Avon with Children.
Why Visit Stratford Upon Avon with Children?
Stratford upon Avon is world-famous for its connection with William Shakespeare, the great English playwright. And this alone is a populat pull with all kinds of families. Especially worldscooling families and digital nomad families like us who love our trips to include educational fun as well as leisure activities.
Let's face it, when you visit Stratford upon Avon, you really can't not have the Shakespearean experience. There are at least five houses in and around Stratford upon Avon which are connected to the life of William Shakespeare. So where better for the family to learn about Shakespeare than in his birthplace?
But Stratford upon Avon attractions is not just limited to Shakespeare. There are so many other exciting things to do in Stratford upon Avon with children, a city that thrives by the river Avon. The attractive gardens in the town are like remnants of the rich Tudor era life, and there are many beautiful trails and parks to see there. We have tried to list out a few of the places to visit in Stratford upon Avon as well as some things to do near Stratford upon Avon if you have a car.
Did you get insurance yet?
If you are planning a trip right now for you and your family, then you NEED to think seriously about insurance. If 2020 taught us anything, it's that you need to be prepared for anything! I'm pretty sure we have all had travel plans messed up because of COVID and not all insurers covered this. So you need to find an insurer that covers travel disruption due to COVID-19, World Nomads, Safety Wing, or Travel Insurance Master are the ones to go for.

World Nomads is great for incidents that happen prior to your trip, so if you get sick or are unable to travel due to travel restrictions some of their policies will cover that as cancellation cover.

Safety Wing goes the extra mile and covers quarantine outside your home for up to 10 days, they also have a really handy map on their website showing requirements and restrictions for each country.

I also use Travel Insurance Master for some short vacation type trips as they are cheaper than World Nomads a lot of the time.

If you are doing shorter trips or a longer backpacking trip then WorldNomads or Travel Insurance Master are the best option. If you are a digital nomad or planning travel of at least 6 months then go for SafetyWing.
Where is Stratford Upon Avon?
Stratford upon Avon is in England's Warwickshire country in the West Midlands. It is one of the most accessible tourist towns and can be reached easily via train, coach, or road. The town is just two hours from London and an hour away from Birmingham.
The main reason to not miss a visit to Stratford upon Avon while in England is the Shakespearean experience. Everyone who has read English literature knows about the famous writer and those who haven't had also seen many adaptations of Shakespeare's famous works produced across the world.
When the birthplace of such a world-renowned person is so easy to reach, why miss visiting it? It can be a UK day trip or, better yet, stay for a few nights to soak up the history and literature of the place because there are many things to do around Stratford upon Avon.
How To Get To Stratford Upon Avon?
Plane – The closest airport is Birmingham, just 25 miles away, and Heathrow airport 90 miles away. Both cities are well connected to Stratford upon Avon by public transport.
Train – If you are traveling from London by train, it will take about two hours to reach Stratford upon Avon. There are trains to Stratford upon Avon from London Marylebone station every 60 minutes. A train journey to Stratford upon Avon can also be made from Birmingham Moor Street, and it's only 40 minutes of travel time. Search for tickets on Red Spotted Hanky and book tickets in advance at least two months ahead.
Bus/ Coach – The cheapest way to get to Stratford upon Avon. National Express runs several coach trips daily from London Victoria Coach Station to Stratford upon Avon Riverside Bus Station. The most direct route takes two and a half hours, and the longest can take up to four hours. You can also check MegaBus.
Car – It's the fastest way to reach Stratford upon Avon from London. It is about a 100 miles drive on the M40. Parking will be available in the City Center or check-in to hotels with parking. We stayed at Hotel Indigo Stratford upon Avon, and they had a secure car parking area which we normally look for when traveling as a family.
You may not need the car to visit Stratford upon Avon attractions if you check in a hotel in the City center. But then there are interesting places to visit near Stratford upon Avon at a distance of 10 to 20 miles, like the British Motor Museum in Gaydon or Warwick Castle, which can be useful.
How Long Do You Need In Stratford Upon Avon, UK?
If you are into literature, history, and Shakespeare, you will need at least three days to cover all local attractions.
You can always have a quick day trip to Stratford upon Avon and still get a few things to do around Stratford upon Avon, like visit William Shakespeare's birth home and walk by the river. However, we would suggest spending more days in the Tudor-era town especially if you want to slow the pace down and with the kids.
When Is The Best Time To Visit Stratford Upon Avon With Children?
From July to September, the summer months are the best to visit Stratford upon Avon because thats when the weather is better in the UK (hopefully).
Shakespeare's birth and death day is on April 23, so the town does have a week of the Stratford upon Avon Literary Festival at that time which is also a great time to go with the kids as there are a lot of special activities that they will love during this week. It may not be warm in April, but the city comes alive with actors, and theater lovers, to commemorate the greatest English playwright.
As the town is a big tourist attraction because of its Shakespearean legacy, it is busy with people throughout the week with international tourism and school educational visits. Then weekends get even more crowded with families.
During the UK summer holidays (Mid July until the end of August) expect crowds all week as its a popular with families and international tourists alike.
12 Things To Do In Stratford Upon Avon With Children
Shakespeare is everywhere at Stratford upon Avon. So, of course, the highlights of Stratford upon Avon attractions are Shakespeare-related. But then there are many other interesting things to do in Stratford upon Avon with kids, which are not just Shakespearean.
We've listed some of the things to do around Stratford upon Avon with children. You can also check out the Visit Stratford upon Avon website for more details and activities.
See our list of the best things to do in Stratford upon Avon with children!

1. VISIT SHAKESPEARE'S CHILDHOOD HOME
When you are in the birth town of William Shakespeare, you have to check out his birth and childhood home. Hear tales about his family as you tour Shakespeare's birthplace on Henley Street. The premises include some beautifully preserved heritage homes, cottages, and gardens.
The house where William Shakespeare was born was owned by his father, John. It was passed on to William after John's death. William Shakespeare spent his childhood here and lived with his wife, Anne Hathaway, for five years.
The house where William spent his prime years of life has been converted into a museum showcasing some of the belongings of his and his family. The property is now under the care of the Shakespeare Birthplace Trust. The trust has also opened a modern visitor center with the world's largest Shakespeare-related library and archives. It will be an interesting visit, experiencing the early life of England's greatest writer.
For all Shakespeare's Love sonnets fans, Anne Hathaway's cottage is a must-visit place. It is the family home of Anne Hathaway (not the American actress), the wife and beloved of William Shakespeare.
Anne was born and raised in a quaint cottage built on a farmhouse. Here, real-life 'Shakespeare in Love' happened when young William courted Anne at the 500-year-old property. The cottage still exists and is being preserved by the Shakespeare Birthplace Trust.
Anne's cottage's original furniture, features, and garden have been well maintained. You can wander around the gardens and orchards near the cottage to experience the place where Shakespeare got his inspiration for all the love sonnets he wrote.
3. WATCH A PLAY AT THE ROYAL SHAKESPEARE THEATER
When you are in Shakespeare town, watch Shakespeare's work on stage. It is one of the best things to do in Stratford upon Avon with kids as they can experience English theater firsthand. The Royal Shakespeare Company performs plays by Shakespeare and his contemporaries at the erstwhile Shakespeare Memorial Theater.
The original Shakespeare Memorial Theater, built in the 17th century, was destroyed in a fire. It was rebuilt in 1932 and is now taken care of by the Royal Shakespeare Company. The Theater company also offers a fascinating one-hour tour of the building where tour guides will lead you on a journey through the building's public and behind-the-scenes areas.
If you are lucky, you can see one of Shakespeare's works at the Theatre during your visit. So do check the Royal Shakespeare Company's schedule beforehand to book a ticket. The Theater also has a Rooftop Restaurant with a stunning view of the River Avon, where you can enjoy a nice British brew or some English tea.
4. TAKE A WALK ALONG THE RIVER
If you want to enjoy a nice walk checking out some of the most prominent places to visit in Stratford upon Avon, then there are 2 miles of stretch on the banks of River Avon. It is a leisurely stroll on both sides of the river. It is one of the best things to do in Stratford upon Avon with kids if you want a serene yet wholesome experience.
You can get an outstanding view of the Royal Shakespeare Theater from the east side and that of Holy Trinity Church, where Shakespeare is buried. The eastern side provides the best angle to click photographs of Stratford upon Avon monuments.
You will also see attractive weirs and canal boats named after Shakespeare characters.
You can cross over using a bridge connecting the banks and visit the Holy Trinity Church. You can pay respect to the dead playwright's grave and see the Avon bank Gardens next door. Then further down that road is the Memorial Theater Gardens, Bancroft Gardens, and some lovely cafes and shops.
5. TAKE A BOAT RIDE ON RIVER AVON
If you do not want to walk 2-3 miles alongside the river, make a stopover where boats are parked at the canal. You can hire a small rowing boat by the hour or self-drive a motorboat and be on your way to the tranquil waters of River Avon.
Yet another classic way to sail through the waters is by hopping on an Edwardian passenger Vessel for a Public cruise. Expect to be surrounded by green parkland and flower-filled gardens, with a view of Stratford upon Avon attractions. Spending a sunny afternoon cruising on the river with your family is worth the time.
If you're visiting Stratford in and around September, then be guaranteed that the autumn colors of the foliage will leave you wanting another ride. If you're lucky, you may come across a family of swans crossing by.
6. RIDE ON THE BIG WHEEL
We find this one of the most exhilarating things to do in Stratford upon Avon with kids (or even without!). Take a ride on the Big Wheel and enjoy a bird's eye view of Stratford upon Avon. It is a 40-meter Ferris wheel on the banks of the River Avon with six-seater viewing pods.
It offers super nice views across Stratford upon Avon and beyond. While high up on the wheel, look out for The RSC theaters, the River Avon, Holy Trinity Church and the Welcombe Hills, topped by the unmistakable Obelisk. It is a fantastic experience to view the Shakespearean town and surroundings.
7. VISIT THE MAD MUSEUM
Located on the same street as Shakespeare's birthplace you will find the MAD (Mechanical Art & Design) Museum, an interactive heaven for children of all ages.

Tickets cost £7.80 for adults and £5.20 for children aged 6-15 years. Children under 5 can enter without a fee. A family ticket for 2 adults and up to 2 children should cost you around £22.00. The museum is open almost all year except for some days during the Christmas period.

Make sure you don't miss the entrance as it's located in a small section of a long street.
8. ENJOY A MEAL AT THE WOODSMAN RESTAURANT
One of the best additions to Stratford upon Avon is The Woodsman restaurant. A modern farm-to-table restaurant and bar with rustic-chic interiors is a must-visit for foodies.
The grade 11 listed building of The Woodsman restaurant was once used as an Inn between 1655 to 1661. It was also the place for the annual dinner of The Royal Shakespeare Club in the early 19th century. So besides the delicious food at The Woodsman, it is also one of the most interesting places to visit in Stratford upon Avon.
The Woodsman is part of the quaint boutique hotel Hotel Indigo Stratford upon Avon and is known for its unique menu. The delicacies here are made authentically using the oldest cooking methods known to man – wood, charcoal, and flame, giving it a naturally sweet taste.
The restaurant has won many hearts, or should we say many guts! You will find innumerable testimonies praising its delicious food, perfect portion sizes, English breakfast, super friendly staff, and impeccable service. An important tip is to reserve your table well in advance as they remain full most of the time.
9. VISIT THE MOST SPECTACULAR BUTTERFLY FARM
The Stratford Butterfly Farm is Europe's largest butterfly farm, so don't miss out on this place when looking for things to do in Stratford upon Avon with children. It is heavenly to see colorful, winged, dainty insects flying around the shrubs and plants in the glistening sun rays.
The farm is built like a warm greenhouse filled with tropical plants for the butterflies to flourish. You will see butterflies, caterpillars, spiders, beetles, tarantulas, and many other insects that survive in the plants' ecosystem. There is also a pond full of carp and some iguanas.
Moreover, the attraction is not heavy on your pockets. Round off your trip to the Butterfly Farm with a stop at the onsite gift shop. Packed with unique presents for nature lovers and soft plush toys, you're bound to find something to take home as a souvenir of your trip.
10. TAKE AN OPEN-AIR BUS TOUR
If you want to hop and stop at major attractions of Stratford upon Avon, then the open-air bus tour is your chance. It will take you to most of the major attractions, including Shakespeare's Birthplace, Anne Hathaway's Cottage, and Mary Arden's Farm. It will be fun to ride, watching the buzzing life on the streets of Stratford upon Avon as you pass by the historical sights.
11. TAKE THE STRATFORD TOWN GHOST WALK
This is no ordinary walk and is definitely one of the best Stratford upon Avon attractions you will find. It is guided by professional actors or entertainers who take you around the town, telling tales of its supernatural occurrences, murder, and misery.
Of course, the walk starts in the evening to add to the ghostly effect. Tourists on the ghost walk are left thrilled and surprised. It is a unique way to explore Tudor town at night. The old buildings, the cobbled paths, and the eeriness of sundown can be a spine-chilling experience.
12. CYCLE ALONG STRATFORD GREENWAY
If you want to explore the countryside of Warwickshire, rent a bicycle and ride the Greenway. It is one of the green places to visit near Stratford upon Avon that offers a rural, rustic experience.
The Stratford Greenway 5-mile cycle route starts from the bridge over River Avon.
It passes through Stratford race course, rides over Stannals Bridge, and along the refreshing tree-lined road to Long Marston. It is an easy-to-ride and fun route that riders of all ages and abilities can explore.
At the start of the Stratford Greenway, the Stratford Bike Hire and Carriages Café is an exciting venue made out of refurbished railway carriages. If you're riding the path in spring, then there is a chance to watch some Eurasian birds. You will hear the shrill sounds of nesting skylarks and spot bright yellow splashes of cowslips nestling in the woodlands.
3 Places To Visit Near Stratford Upon Avon
1. VISIT THE BRITISH MOTOR MUSEUM
The British Motor Museum in Gaydon is one of the best places and best heritage motor centre to visit near Stratford upon Avon. Located just an hour from Stratford upon Avon, it is where you will find the world's largest collection of historic British cars and classic cars.
There are over 400 cars on display from Britain's Motor Industry Heritage Trust and the Jaguar Heritage Trust. It is an interesting place to visit to learn about the history of cars in Britain.
You will see unique old models that can transport you to another era: the classic Minis, land rovers, Fords, Rolls Royce, and more. The British Motor Museum is less than an hour's distance from Stratford upon Avon, just off junction 12 of the M40. There is also a coach service from Stratford to Avon to visit the museum.
2. TRIP TO COTSWOLDS
Cotswolds, just 30 miles from Stratford upon Avon, offers the beautiful British rural, rustic charm. Cotswolds will surely charm you with its honey-colored stone homes, ancient pubs, medieval churches, and excellent food.
You can drive through the panoramic view of Dover's Hill, explore the historic market village at Chipping Campden, and take amazing pictures of Cotswold's prettiest row of cottages at Bibury's Arlington Row.
Get amazed at the Bourton-on-the-Water, famous as "Venice of the Cotswolds." It can be easily done as a day trip. There are many minibus group tours organized from Stratford to Avon that you can embark on or drive in your car.
3. EXPERIENCE A MEDIEVAL KNIGHT'S LIFE AT WARWICK CASTLE
Warwick Castle is 8 miles away from Stratford upon Avon, in case you are not looking for a long drive anywhere. It is one of the things to do near Stratford upon Avon that is not very far from the main city center, yet out of town. You can spend hours exploring the castle and its surroundings.
There is the world's largest working catapult launch, the tallest tower revealing a panoramic view of the fort, 64 acres of beautiful gardens, and interesting history that dates back to the 10th century.
It is one of the most well-preserved castles in the UK courtesy of its management company Merlin, which is the same one that manages attractions like Madame Tussauds and Legoland. You can visit Warwick castle by tour coach, train, or car; it is all easily accessible. Except of course for cars, there is no free parking.
Outfits Inspiration for Mom
Outfits Inspiration for Dad
Outfits Inspiration for Kids
Where To Stay In Stratford Upon Avon With Children
Our number 1 recommendation of where to stay in Stratford upon Avon is Hotel Indigo. We had an amazing stay there and we can't speak highly enough of it. The location is super central, there is onsite free parking, the restaurant is out of this world, and the staff was amazing…and don't even get us started on the breakfast!
You can read Claire's full review of Hotel Indigo Stratford upon Avon here.
Here are a few other recommendations of where to stay in Stratford upon Avon with children, depending on your budget:
Ashgrove House
Broom Hall Inn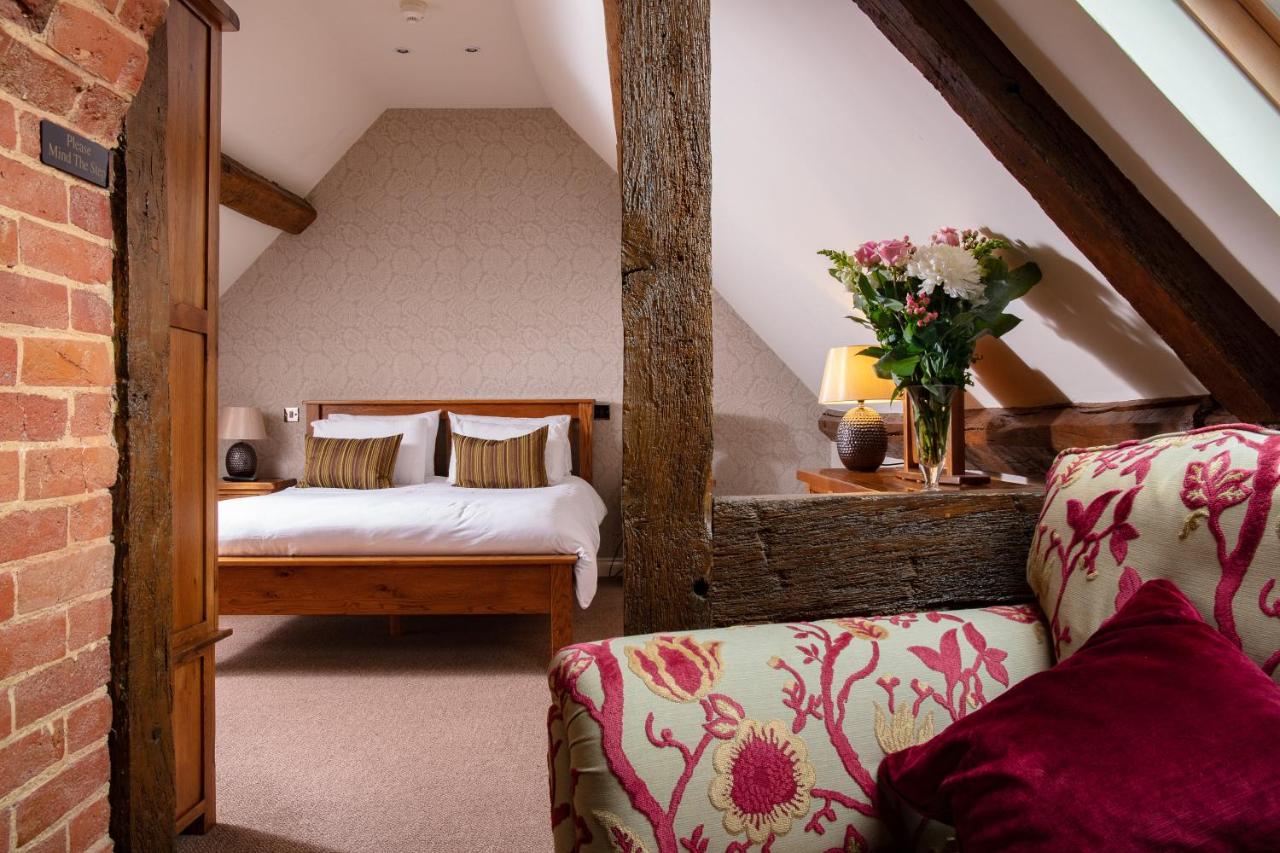 The White Swan Hotel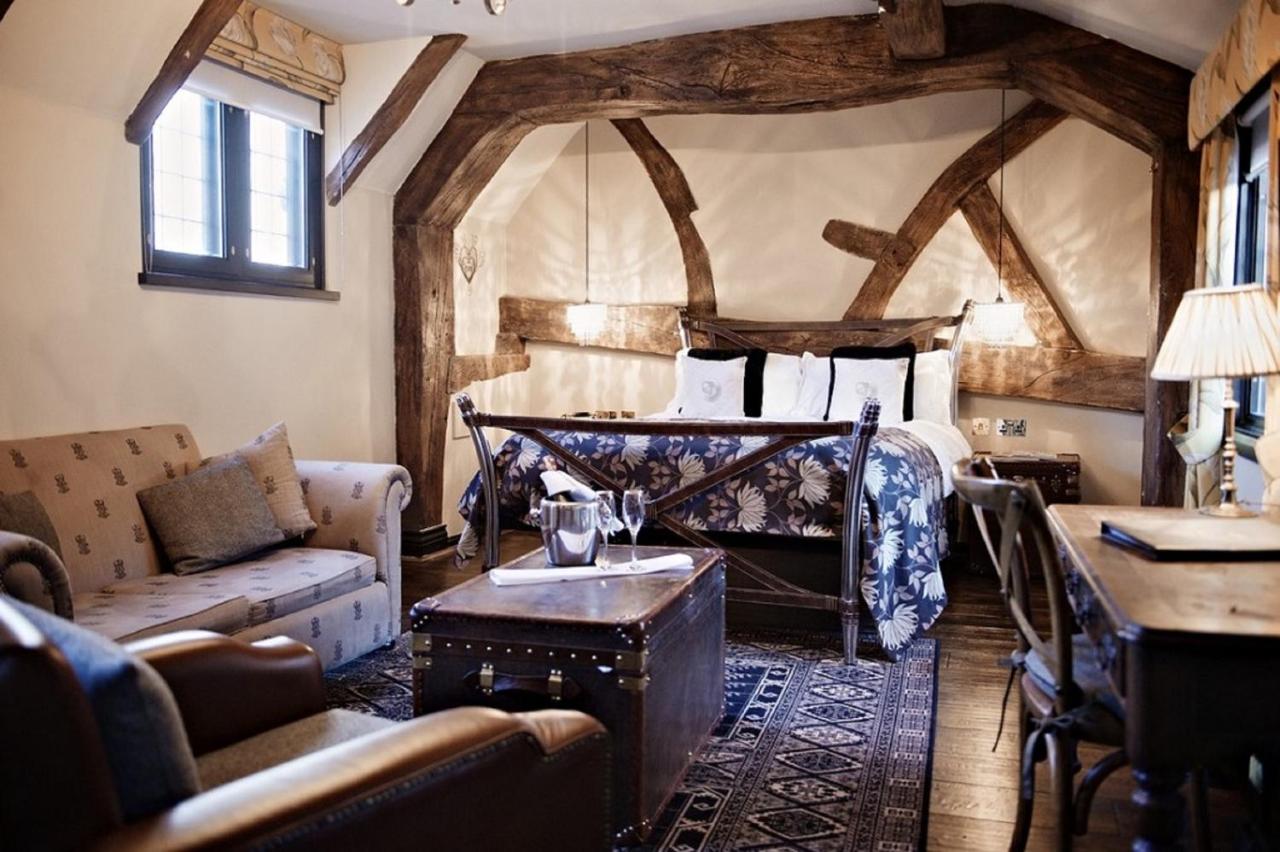 Final Thoughts About Things to Do In Stratford Upon Avon With Children
To sum up our experience in Stratford upon Avon, we'd say it was the perfect balance of style, history, beauty, and adventure. We'll surely be back!
Like it? Pin it!